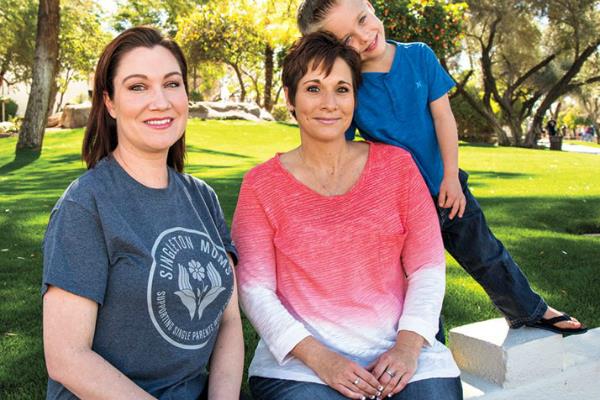 Battling cancer is a devastating blow to anyone. It is even more overwhelming when it happens to a single parent with minor children. Jody Farley-Berens, a former Royal Neighbors Nation of Neighbors grant recipient took decisive action to help out when she founded Singleton Moms. We recently followed up with Jody to see how things are working out for her and her program.
RN: You seem very passionate about the work you do through your Nation of Neighbors project. What sparked your interest in your program and why did you decide to pursue it?
JFB:
In 2006 I founded a non-profit organization called Singleton Moms after the loss of a childhood friend in 2005. My friend Michelle Singleton was a single mother of four children when she was diagnosed with breast cancer at the age of 30. She sadly passed away after a courageous 15 month battle.
After her passing, it was the personal struggle to keep her home running "normally" through her illness that really stuck with me. The ability to keep the lights on, prepare dinner, or purchase household supplies became almost impossible because she was exhausted from treatment. As she grew weaker it was obvious her ability to work was no longer a realistic expectation.
It occurred to me that she couldn't be the only single parent struggling with the day-to-day challenges of raising a family while navigating a cancer diagnosis. That is how Singleton Moms was born. Now through our mission, Singleton Moms is dedicated to nurturing single parents battling cancer and their minor children, by meeting the practical day-to-day needs of the entire family, while providing hope for tomorrow. In the last nine years Singleton Moms has provided financial assistance, nutritious meals, housecleaning, kid's events, and emotional support to over 300 single parents and their 1000+ children.
RN: What has been your proudest moment in connection to your Nation of Neighbors project?
JFB:
Being recognized as a Top 10 CNN Hero has been my proudest moment. It is such an incredible honor to have a worldwide organization recognize the value and see something special in the Singleton Moms mission. It brings validity, not only to the organization, but a voice to an entire population of people who are in need. I feel that everyone has met a single parent, and sadly, most everyone knows someone who has or is battling cancer. Singleton Moms exists where those two worlds intersect. I am grateful that is being recognized.
RN: What was your biggest obstacle?
JFB:
Funding is always the most challenging obstacle. As awareness has been gained for our mission, those who are in need, and qualify, for our support services increases. It is a constant balance.
RN: What is your vision for the future?
JFB:
The ultimate goal is always to serve more families and we will continue to do that. I also hope to open another chapter of Singleton Moms in another state. In fact, we even have a Top 5 List with supporters in each of these states ready to help us get started. It won't all happen at once, but it is an exciting new chapter in the Singleton Moms story.