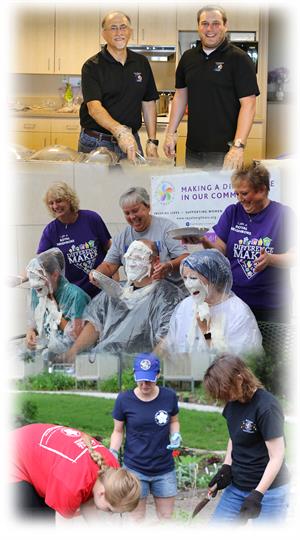 Making a Difference at Work
If making a difference makes a difference to you, then Royal Neighbors is a great place to enjoy a big-hearted career. These are a few ways you can join us on the job and in the community.
Give Where You Live
Royal Neighbors employees are dedicated. They not only use their talents on the job to help empower women and their families, they volunteer after hours as well. Both the Rock Island and Mesa office employees donates goods, services, and their time to help their neighbors and communities. Projects range from feeding the homeless to providing support to single parents undergoing cancer treatment. Wherever there is a need, you're sure to find a Royal Neighbors employee lending a helping hand.
Learn how Royal Neighbors chapters across the nation are making a difference in their communities.

Here's something exciting. The Difference Maker Fund offers Royal Neighbors members $200 in seed money to support a one-time community project that empowers women and/or girls. Learn more about the Difference Maker Fund.
Rewarding Volunteerism
Royal Neighbors not only encourages employee volunteerism, we support it financially. Employees are paid to volunteer during work hours to support programs that generally take place during business hours such as helping at schools, hunger and homelessness relief, youth mentoring programs, driving veterans to appointments, or civic activities such as volunteering at the public library or a local animal shelter. Employees who report their volunteer hours receive recognition and are eligible for monetary drawings.