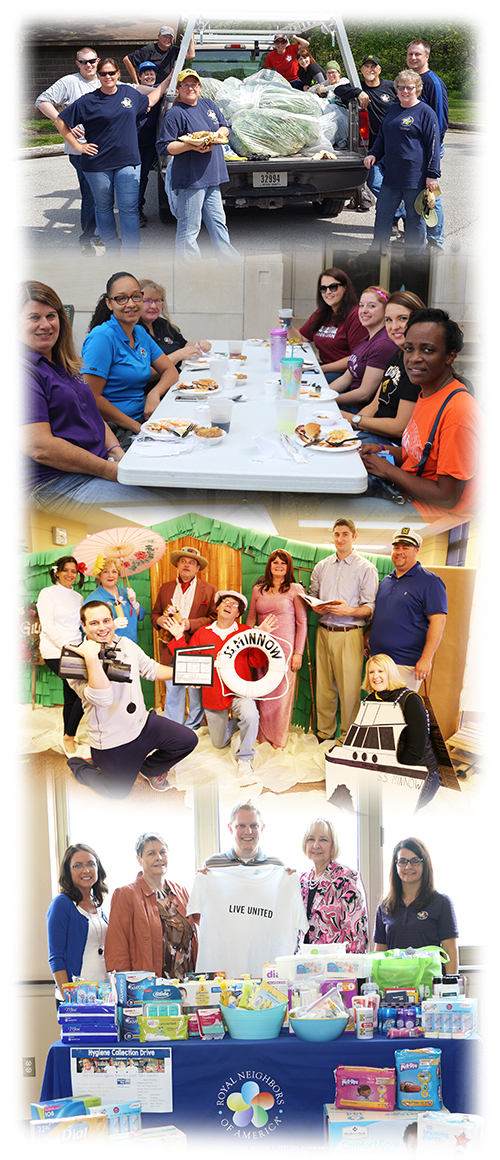 Our People are Our Strength and Our Future
Royal Neighbors values the contributions of our employees. In return we offer a comprehensive employee benefits package with competitive pay, a variety of employee perks, as well as opportunities for educational and career advancement.
A Generous Partnership
Royal Neighbors has a competitive edge over many other life insurance providers. Since we are a not-for-profit fraternal benefit society we offer member benefits in addition to employee benefit and compensation packages. These value-added extras include: scholarship opportunities, free and discounted legal services, health and retail discounts, discounts for prescription drugs, and much more. Membership benefits also include volunteer opportunities to make a difference in communities. Our employees are generous. To date $9.1 million in Social Good from charitable and volunteer activities has been generated by our employees and members.
Rewards and Recognition

Great work performance deserves the spotlight and we have several ways to shine it on outstanding employees. The peer-to-peer recognition program fosters an environment of team work and success. It also encourages employees to say "Thanks!". Employees may also submit nominations to recognize colleagues for exceptional service through Employee of the Quarter, Team of the Quarter, and Employee of the Year programs.
Flexible Schedules

We understand the need for flexibility in the workplace and encourage work-life balance. When practical, Royal Neighbors allows opportunities for flexible scheduling. All arrangements are made on a case-by-case basis, focusing first on the business needs of the organization.
Life and Disability Insurance
Royal Neighbors provides financial protection during life's challenges. Employees are eligible for group Term life insurance, and short-and-long-term disability at no cost.
Paid Time Off and Holidays
Even the hardest-working employees need time off to recharge, refresh, and relax. Royal Neighbors offers paid time off (PTO) away from work that employees can use for vacation, personal time, personal illness, or time off to care for dependents. Employees accrue PTO at the start of employment and the amount increases with tenure. After the first year PTO is increased to over three weeks on an accrued basis. Combine this benefit with 11 paid holidays per year (10 major holidays and one floating holiday)!
Employee Bonus Program
Royal Neighbors' Employee Bonus Program is a great way to share in the wealth, health and well-being of Royal Neighbors' success. Employees receive a bonus payout for meeting year-end plan objectives. To help ensure employees are kept up-to-date, progress reports are discussed at meetings throughout the year. Go team!
Retirement Benefits
Royal Neighbors walks the talk about being ready for the future. We provide a comprehensive 401(k) retirement savings plan to help our employees prepare for their retirement. The plan offers immediate vesting and contributes a large percentage amount in addition to dollar-for-dollar matching funds. Eligible employees who are at least 21 years or older can participate starting from the first day of full-time employment.
Health and Well-being
We get it. Happy and healthy employees make for a better workforce and a stronger community. That's why we provide all our regular, full-time employees and their dependents a competitive healthcare package that offers major medical, dental, and vision benefits starting on the first day of employment. But good health is more than providing health insurance coverage. Employees and direct family members receive free counseling through our Employee Assistance Program on various topics including financial, legal, wellness, and family planning. Our focus on wellness programs, teamwork, a positive work environment, and emphasis on volunteerism also contributes to the well-being of each of our employees, as well as their family members.