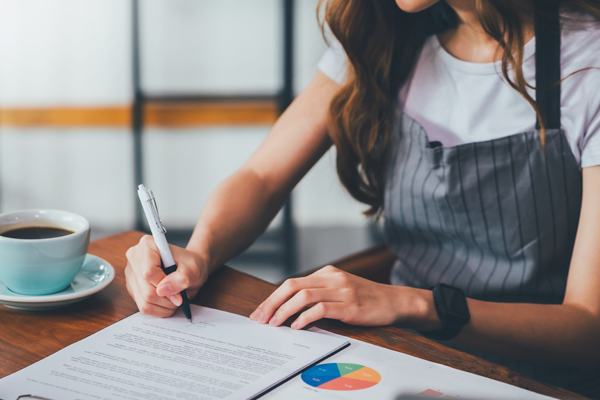 As a CERTIFIED FINANCIAL PLANNER™, I often have clients who have amazing businesses or freelancing careers, but who aren't sure how to balance adequately compensating themselves for their work and handling business expenses.

Instead of setting boundaries between their business income and their spending money, some folks keep everything in the same bank account. This makes handling taxes, covering unplanned expenses, or simply knowing how much fun money is available, confusing and sometimes stressful.

This is why I recommend paying yourself in the same way an employer would. Here's how to do it.

Start by taking a look at your income over the past few months. Even though earnings are never guaranteed as a business owner, your monthly income may be more predictable than you think.

This exercise may also help you identify your business' slow and busy seasons, which can help you in the process of planning how to pay yourself. Based on this information, estimate your business' average monthly income.

At the same time, take a look at your recurring monthly business expenses. Use an app, spreadsheet, or calculator to subtract those monthly expenses from your average monthly income. Don't forget to set aside money for taxes as a part of this process.

With the remainder, you'll have to make some decisions. You may want to save for a business emergency fund, or reinvest a portion of that money into your business. Keep those goals in mind as you work to determine your monthly take-home pay.

Once you arrive at that number, make a plan to transfer the money from your business bank account to a personal bank account weekly or every other week, depending on how frequently you'd like to get paid. If you ever make extra money, keep it in your business account. You may have a slow month, and having that reserve on hand will be helpful.

The way these payments are structured from a tax perspective depends on the type of business you own.

If you operate as a sole proprietorship or a single member LLC, you may take an "owner's draw," which simply means pulling money from a business for personal use. When you take an owner's draw, you pay taxes on the income personally, rather than as a business.

If you operate as a partner or a multi-member LLC, you will take a "distributive share," or an individual owner's share of the income. This income is taxed on a personal basis as well.

Meanwhile, if you own a corporation, you can pay yourself a salary. This shifts some of the tax burden from the individual to the business, which may be beneficial.

Now that you've determined how much and how often you'll pay yourself, as well as the tax implications of doing so, all you have to do is implement the plan. Once you do, your bank account — and your business — will thank you.
Kristen Euretig, CFP®, owns Brooklyn Plans, LLC, a financial planning firm dedicated to helping today's women.

The author of this article is not associated with Royal Neighbors Foundation and the opinions expressed are her own.

This article is for informational purposes only, you should not construe any information provided as legal, tax, investment, or financial advice. No reader should make any investment decision without first consulting his or her own financial advisor and conducting his or her own research and due diligence.