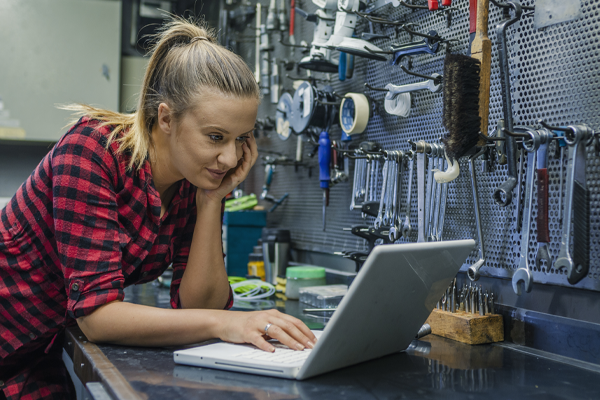 Managing your money during the coronavirus pandemic is hard. This is doubly true if you're self-employed or own your own business.

As a result of social distancing, you may have seen client work dry up or business revenues fall in the past month. The Coronavirus Aid, Relief, and Economic Security Act, which was passed in recent weeks by Congress, includes provisions that can help self-employed folks or small business owners.

Here's how to use the provisions to your advantage:

The $1,200 Checks
The U.S. government is in the process of sending — on a one-time basis — $1,200 checks to certain Americans.

If you filed as single in 2018 or 2019 and your adjusted gross income for the year was under $75,000, you'll get the full $1,200. If you and your partner filed taxes jointly, and your shared adjusted gross income for the year was under $150,000, you'll each get a $1,200 check.

If you filed as head of household, the upper limit is $112,500. You'll receive a $1,200 check if your adjusted gross income is lower than that. For every $100 you made over the upper limit, your payment will be reduced by $5.

For each child you have under 17, you'll get an additional $500, as long as your adjusted gross income is under the thresholds. It's important to note: if you were claimed as a dependent on another tax return, you won't qualify for the payment.

If you haven't received your check, the IRS has a site set up to help you get your payment. And if you want more on the stimulus checks, check out my video on them.

Unemployment Insurance
The CARES Act extended unemployment to include freelance, part-time and self-employed workers, who can now access unemployment for a total of 39 weeks.

The bill included provisions to increase the potential payout unemployed workers could receive. It also eliminated the one-week waiting period for benefits.

Benefits are dependent on your state government, so check out their site to get started on your application. Many states' unemployment offices are overwhelmed right now, so it may take time to get through the system.

Paycheck Protection Program
If you own a small business or a sole proprietorship, or if you're self-employed or an independent contractor, you can apply for a loan through the Paycheck Protection Program.

Here's how it works: you'll use the loan to cover payroll costs and most mortgage interest, rent, and utility costs over the eight week period after you receive the loan. As long as employee and compensation levels are maintained, the loan will be forgiven.

There are some nuances to this rule, so check out the Treasury Department's information sheet for details.

Although initially, the funds allocated to this program were fully paid out, Congress approved a second round of funding. If you were unable to secure funding the first time around, apply again.

Emergency Economic Injury Disaster Loans
The PPP loans aren't the only relief available to small businesses. The CARES Act expanded the SBA's Economic Injury Disaster Loan program to provide relief for small businesses, independent contractors, and nonprofits.

These loans carry a fixed interest rate of 3.75 percent (or 2.75 percent for nonprofits), and repayments can be deferred for one year. These loans are available directly through the Small Business Administration.

Retirement Accounts
If you're struggling to find ways to make ends meet, you may consider tapping your retirement account.

The CARES act has made it so that distributions from your IRA or employer-sponsored retirement plan of up to $100,000 are not penalized for early withdrawal. This only applies under certain circumstances: if you or someone in your immediate family has been diagnosed with coronavirus, if you lost work, or if you can't access childcare because of the virus.

If you choose to take a withdrawal, you can treat it as a loan and pay it back within three years, or you can take the money and pay income taxes on it over the next three years.

Take this decision seriously: having money saved for retirement is important. If you can find other ways to shore up cash, you may want to hold off on tapping your retirement account.

These are just a few of the many ways the provisions in the CARES Act may help you and your small business. Check out this guide from the Senate Committee on Small Business and Entrepreneurship for more.
Kristen Euretig, CFP®, owns Brooklyn Plans, LLC, a financial planning firm dedicated to helping today's women.

These articles are for informational purposes only and do not constitute tax or financial advice. Individuals should contact their financial professional for assistance.