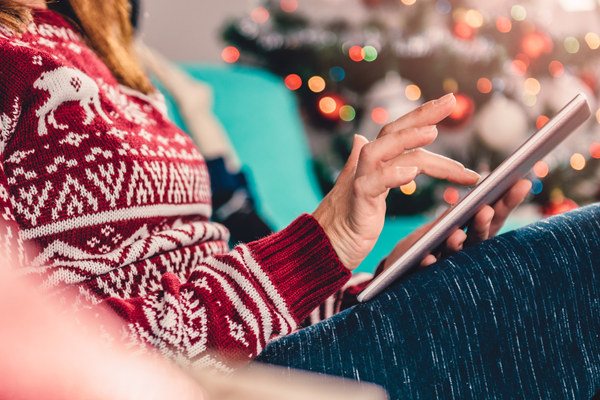 In between preparing for and celebrating winter holidays, making financial resolutions often falls to the new year. This season, do yourself a favor and set aside time to refresh your financial plan and get a jumpstart on next year's goals.

Reflect on your financial year
The first step in setting goals for 2019 is understanding how 2018 went for you. This can be as simple as taking time to reflect while you're in the shower or you can write in a journal or on the computer. A few questions to consider:
How stable is your current financial situation and how has that changed over the past year, if at all?
Are you more or less stressed about money than you were a year ago or about the same? How has your net worth (total assets minus total liabilities) changed in the last year?
Have you accumulated—or paid off—any debts or put money into savings or retirement? Has your credit score changed meaningfully?
How have your earnings changed, if at all?
Have you spent within your means this year or did you end up overspending?
Which financial behaviors are you most proud of and which would you like to change?
Once you have answers to these questions, you will be in a position to address any end-of-year to-dos and set your goals for 2019.
Want help calculating your net worth? Try this calculator.
Refresh your accounts


While your finances are on the brain and you're checking your accounts, take the extra step to refresh them by updating any outdated or missing information. This could include:
Updating personal information on your bank, credit card and investment accounts
Updating addresses or other information as needed on personal checks
Looking for red flags on your credit report
Reviewing your tax withholding
Updating beneficiaries on your investment accounts and insurance and amending your will, if needed
Checking your contribution to your 401(k) or other retirement account—and bumping it up, if possible
To check your credit report, request a copy of from all three major agencies at once at AnnualCreditReport.com.

Tackle any time-sensitive issues
The end of the year is often the deadline for healthcare- or tax-related issues. As you take stock of your finances at the end of the year, note any such deadlines—and set calendar reminders for yourself that ensure you don't miss any of them. A few deadlines that may apply to you:
Retirement account contributions, including a 401(k), 403(b) or IRA. Although you may have until early 2019 to make IRA contributions, it is best to contribute as much as you can by the end of the year, as it will get you in the right state of mind for 2019.
Healthcare expenses, like your Flexible Spending Account (FSA) for healthcare and dependent care. Check your balance and be sure to use up any balances that won't roll over to next year. No medical expenses coming up? Stock up on FSA-approved items (like first aid kits and thermometers) at the very end of the year.
Tax-deductible savings plans, like 529s for education or Health Savings Accounts (HSAs) for medical expenses.
Charitable giving. If you have unallocated funds at the end of the year that you would like to give to a favorite cause or items you would like to donate, this is a good time to do so. If you would like to use your gifts as a tax deduction, be sure to check whether your donations are eligible and get any required documentation.
To calculate how an increase in your 401(k) contribution could add up over time, see this calculator.

Set your financial intentions
Once you have a sense of how the year went for you and how your financial habits support your short- and long-term goals, start sketching out a plan for next year. At Brooklyn Plans, we encourage women to build financial goals that are realistic, measurable and rooted in what makes you happy.

For advice on turning your aspirations to reality, see my other articles on turning big goals into smaller, more attainable action items.

Simplify your financial life

We all know that it can be hard to stick with new year's resolutions. Help yourself keep your promises by simplifying your financial records and processes and automating as much as you can.
Make it easier to check your accounts. Whether that means bookmarking your sites, setting up a password manager or creating an account with Mint or Personal Capital, having easy access to all your accounts will make it easier for you to stay organized in 2019. For more on how to stay organized, check out my article on dealing with "financial clutter."
Automate as much as you can. Automate bill payments, savings transfers and investments (as long as you're not at risk of overdraft).
Use your calendar. Schedule days to check your net worth every quarter, pay your bills and transfer money to savings.
Taking stock of your financial situation before the holidays is a great way to make your finances a priority in 2019—and should help you relax and enjoy the season.


Kristen Euretig, CFP®, owns Brooklyn Plans, LLC, a financial planning firm dedicated to helping today's women.

These articles are for informational purposes only and do not constitute tax or financial advice. Individuals should contact their financial professional for assistance.