We may not always appreciate our true worth as a spouse, parent, friend, or employee, but we can gauge our financial worth. To help women realize their dreams of financial security and personal fulfillment, the Foundation created its Know Your Worth grant program.
Our Know Your Worth grant is designed to empower women to continue to build on their financial value as they expand an existing small business or create a start-up with less than five employees where access to traditional sources of capital and lending are limited or non-existent. One recipient is selected annually to receive a $10,000 grant. Recipients then pay it forward by sharing the lessons they learn with future grant recipients.
Nominations for the Know Your Worth grant will be accepted from Sept. 1-Nov. 30, 2017. Watch here for the nomination form.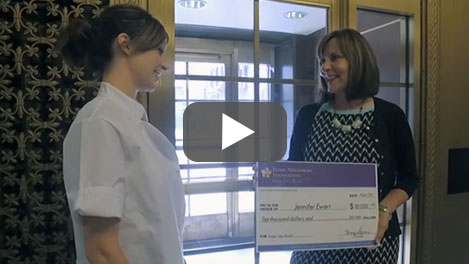 Meet Jennifer Ewert of Davenport, IA. She had a dream to start her own business. When that dream was finally realized in the form of the French Rose Bakery and Café, she was thrilled. She was equally excited when she was awarded the inaugural Know Your Worth grant from the Foundation in 2016.

The Royal Neighbors Foundation is a 501(c)(3) public charity that provides financial education and supports causes that empower women and their families.
All awards are subject to the discretion of the Royal Neighbors Foundation.
Form #: F00027